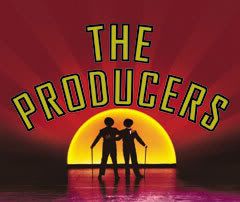 The curtain has dropped. The spotlights have dimmed. Costumes and make-up are off. The show is over. But the excitement lives on.
The DH (and I had to explain to him what that means -- Dear Husband in cyber-lingo) made his big debut last night in "The Producers" and he was a smash! So now he has become DHtS -- Dear Husband the Star. Escorted by his lovely leading lady Alison, he made his way across the stage with charm and panache, paused at the appropriate moment and then entered the front doors of the on-stage Schubert Theater. Dressed stylishly in a tux with a cape and derby, he could have graced the pages of any fashion magazine.
My heart was a-flutter when his big scene began and I punched the friends on either side of me to let them know his big moment was coming up. He made us all proud and I hope the sponsor of the contest was pleased with his performance as well. We found out last night this is the first time they've ever done this. So not only did he make his debut, he was a trailblazer as well.
I really should let him blog about his experience seeing the show from the other side of the curtain. He was amazed at the amount of work behind the scenes and how they achieved the effects we'd seen on Friday night. He was especially impressed with Trinity, the stage manager, and the amount of work he did to keep the three-hour production running smoothly. But most of all, he keeps talking about how friendly and nice the entire cast was.
He was "just" the walk-on, but they all made him feel welcome and even gave him a couple small souvenirs from the show -- the boutinniere he wore in his scene (a fake carnation I would have sworn was real), the hankie from his tuxedo pocket, a couple luggage tags with the show's logo and a signed poster. I'm taking all his memorabilia to the craft store and having it framed for his office. It's definitely an evening we won't forget.
DHtS & Alison, his lovely leading lady, who is part of the Ensemble

DHtS & Austin (Leo Bloom)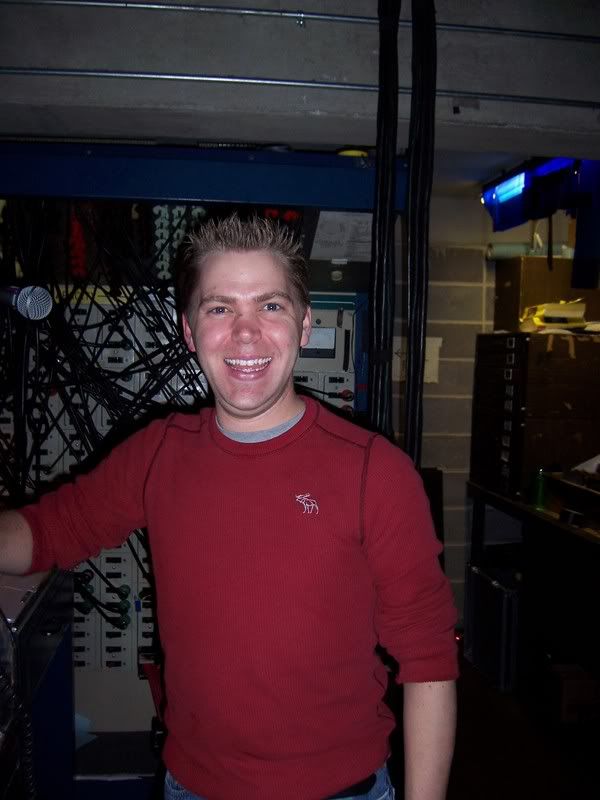 P.S. Someone asked how he won.
WRSA
radio had a contest where they took 3 qualifiers each day for 5 days (you had to call in when you heard a particular song from the show). He was the correct caller one morning on his way to work. Then at the end of that week, they put all 15 qualifiers' names in a bowl and drew one out. And the rest is history.
Our thanks go out to WRSA and
The Broadway Theatre League
for this magnificent opportunity.