Last year at Christmas my sister and I decided instead of exchanging presents, we would promise to take two trips together this year. We'd done a girls' trip to Nashville a few years ago and had a blast, so we knew traveling together was a good thing. In June, I spent a week at her home on the coast of Georgia. She lives in a resort area so why go somewhere else during the summer?
Last Saturday she arrived at my home and got to see our new house for the first time. Then on Sunday we drove to Birmingham so that Great Auntie Bev could meet Baby O for the first time. Then on Monday morning we headed out to travel the Natchez Trace Parkway.
En route to the Trace, we stopped in Tuscumbia, Alabama to see Ivy Green, the childhood home of Helen Keller. And as an added treat, we had lunch with Beverly Barton.
We ended our day in Tupelo, Mississippi in a wonderful bed and breakfast across from Elvis's elementary school. Sadly, we missed fellow Heart of Dixie member Peggy Webb's booksigning by a day.
The Natchez Trace was a 440 mile trail used by Native Americans and early explorers as both a trade and transit route as well as a post road for mail delivery by Pony Express riders. The Parkway follows the general path of the original trace. In some spots you can visit the original trace as shown in the photo below.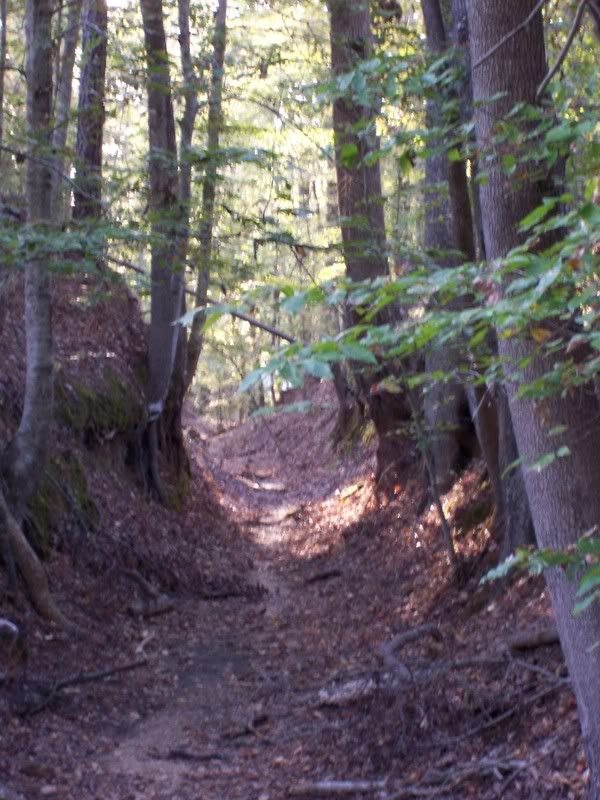 The Trace Parkway ends in Natchez, Mississippi, which sits on the mighty Mississippi River. At this time of year, the camellias are in bloom and grace the city with their vibrant color.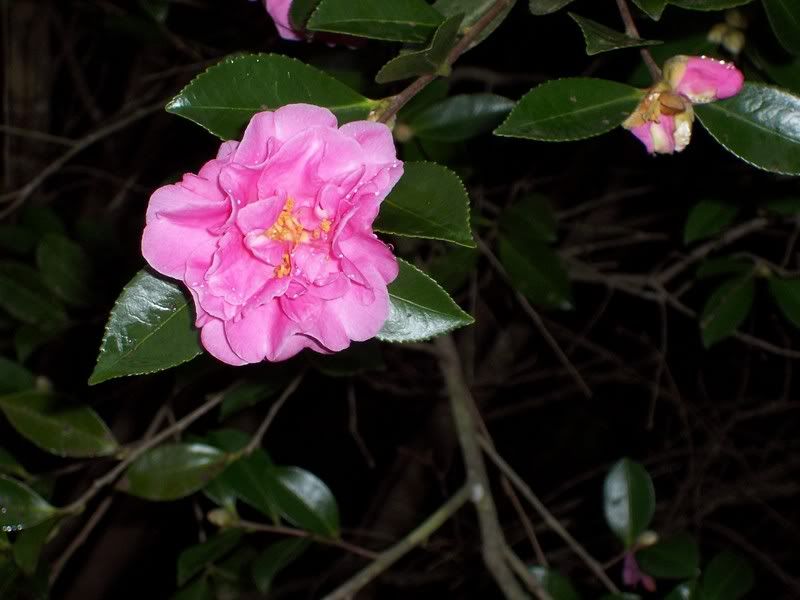 Natchez is also home to a number of antebellum mansions, which are open for tour. Stanton Hall is shown below. It covers an entire city block.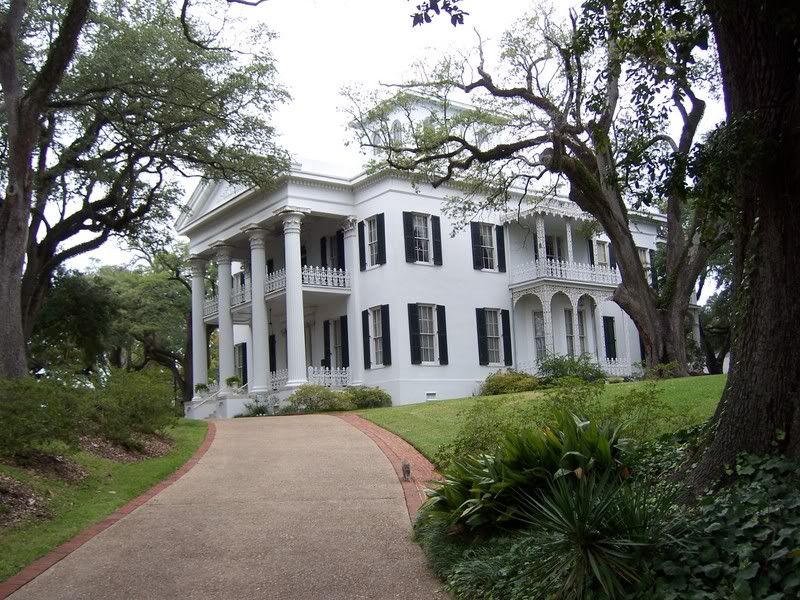 Rosalie, which sits at the site of the old French Fort Rosalie, has extensive gardens and sits on a bluff overlooking the river.
The best part of our trip was our night at Bluff Top, an old Victorian house, which has been lovingly restored and turned into a B&B. Our host, Neil Varnell, creates such an atmosphere of warmth and welcome and treated us (and the other couple staying there) to an elegant breakfast in the house's beautifully furnished dining room. The
pièce de résistance
was the view from the balcony. You just can't help but relax watching the river flow by.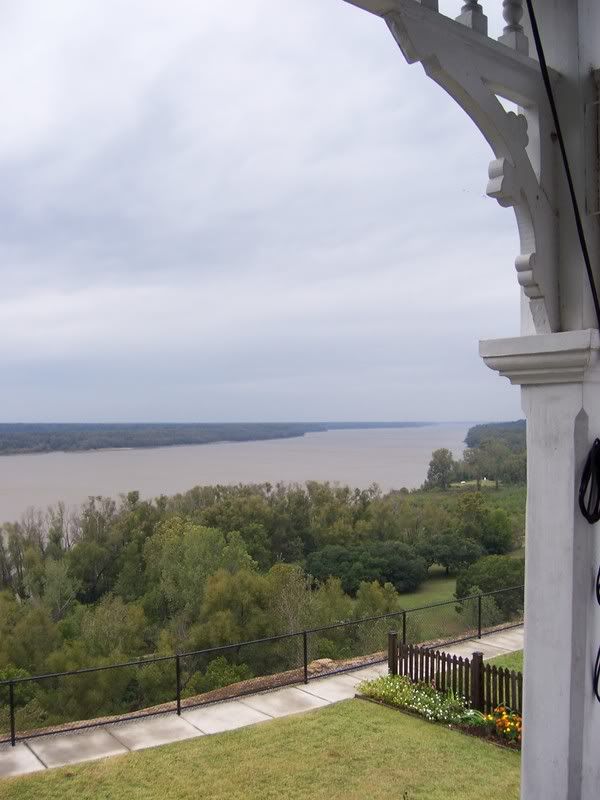 The big surprise of the trip was a little detour off the Trace to a place called the Ruins of Windsor. This home was built by a wealthy planter and is considered by some historians to be the largest and finest antebellum mansion built in Mississippi. An artist rendering of the mansion is shown below.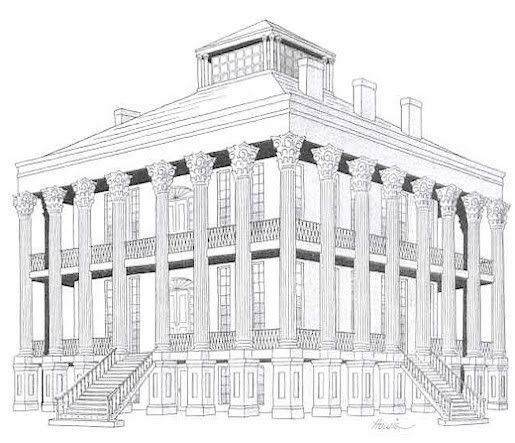 The house survived the War Between the States but burned to the ground in 1890 when a party guest threw a cigarette into a wastebasket. Twenty-three columns and some sections of brass balustrade are all that remain today of Windsor. We traveled about ten miles off the main road and then turned onto a gravel path to reach the ruins. As we rounded a curve, the columns appeared before us and both of us said "Wow!" I was reminded of the ruins in Rome and Athens -- columns standing like quiet sentinels as a reminder of another time and way of life.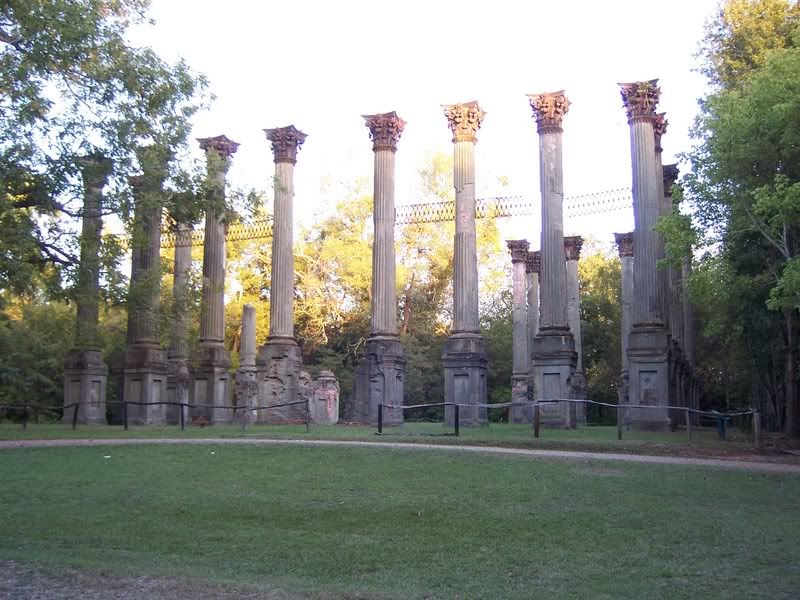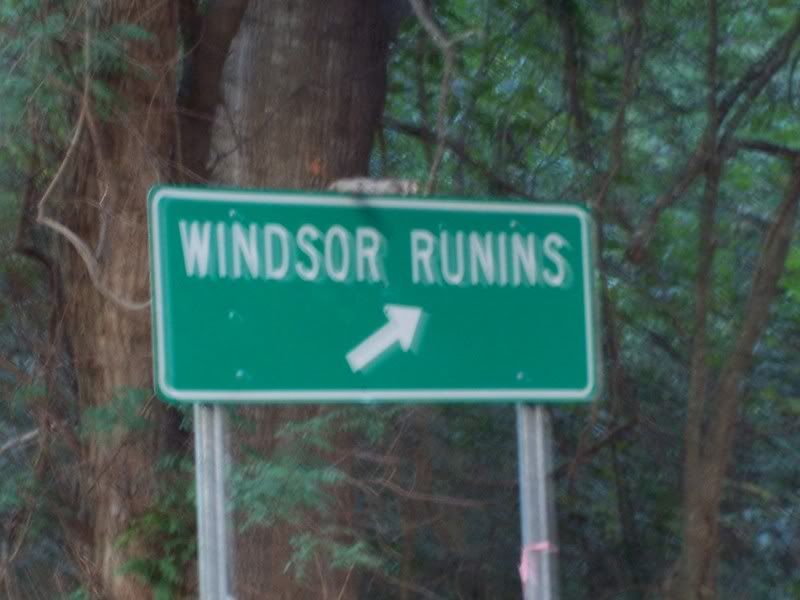 Sadly, however, someone in the department of transportation failed spelling.
Our trip came to an end yesterday (we did get to visit Baby O again!) and my sister left this morning to make her way back to the coast via Atlanta where my nephew is a student at Georgia Tech. Now I get to deal with the tons of emails, stack of laundry and empty fridge and pantry.
Life must go on but it was sure nice to take the break for a few days and see a new part of the country. I have a sneaking suspicion we'll do this again next year. But where???
What's been your favorite road trip?