The Closet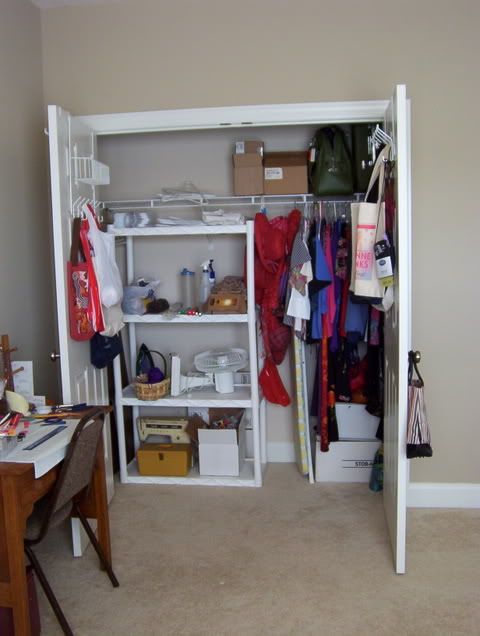 It has sewing and ironing things, off-season clothes, my red hats and a box containing mine and my husband's high school and college yearbooks. Those could probably go in the attic.
Any color is going to have to come from an external source -- window treatments, chair cushions, art work. As it turns out, the decorator who did my greatroom is coming on Tuesday to help me with the master bedroom and I'm going to ask her for some tips too.
Instigator, I like the idea of putting the beading supply cabinet in the closet. It's not attractive at all but I didn't want to spend a fortune on it. If I move out those yearbooks, that cabinet would probably fit in that spot (I'll have to smoosh those clothes together a little more but what's a few more wrinkles? And I probably should get rid of the ski suits since they don't fit and I can't ski any more anyway).
PC -- footrest. Check. I've seen those cube ottomans that open up for storage. I could keep an afghan in there since I'm terribly cold natured and usually need to wrap up if I get still for any length of time.
The tall bookcase might work on the wall with my desk -- on either side of it -- or between the doors. It would be close enough to get my writing books and it also holds some office supplies.
I see a serious search and destroy mission in store for this room to declutter.