Over this past summer, Drama Queen's reading abilities grew like one of those tiny toys you put in water, then watch them enlarge and take shape instantaneously. Not only did the amount she read expand, but the difficult of the books she chose rose as well. She's now reading at a 9th grade level in 5th grade. With surprise, I realized she is reaching the same age I did when reading became my favorite activity.
Her favorites are the Warrior's books (Erin Hunter) and she's now reading a historical YA romance by fellow HOD member Melanie Dickerson. She doesn't seem to be interested in Harry Potter, even though she enjoyed the movies. But watching her sit at the table and read after school brings back so many memories.
My mother began taking us to a local library on a regular basis when I was about eleven. I started in the youth section before moving on to tackle the adult books under my mother's close supervision. The librarians came to know us very well over the years, until my sister and I started college, and they were always impressed that we each checked out the maximum books allowed: 13 per 2 week period. They were astounded when my mother told them we actually
read
all those books.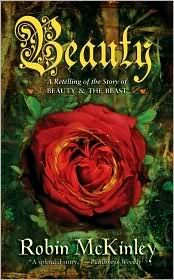 I remember one book in particular, a retelling of Beauty and the Beast titled
Beauty
. I remember the beautiful language, vivid imagery, and intriguing story of sacrifice and love in that book, as well I should since I read it repeatedly. A quick Amazon search revealed a YA book by the same name, by author Robin McKinley, that sounds like it might be the one. I'm hoping to purchase a copy for my daughter for Christmas. Maybe she'll enjoy it as much as I did.
Do you have a book that stands out from your childhood, one that had a special impact on you and your reading habits?
Angel