Welcome to All Things Scottish. Our slogan is: If it's not Scottish, it's CRAP! - Mike Myers, SNL
I was flipping through my scrapbooks this past weekend, reminiscing over the Playfriend's trip to Scotland. Hard to believe, but its been 3 years since we went over there. Crazy how time flies. Anyway, I noticed I also had a couple books with Scottish heroes on my shelf, so I thought it would be an appropriate theme for this month's Free Book Friday!
If You Dare by Kresley Cole
Can he exact revenge?
High in the Pyrenees, a band of mercenaries led by Courtland MacCarrick wages war for General Reynaldo Pascal. When Court turns on the evil general, Pascal orders him killed but Court narrowly escapes and exacts revenge by kidnapping Pascal's exquisite Castilian fiancée.
Can she deny her passions?
Lady Annalía Tristán Llorente despises her towering, barbaric captor almost as much as she does Pascal. Her inexplicable attraction to the Highlander only fuels her fury. But nothing will stop her from returning to Pascal -- for if she doesn't wed him, she signs her brother's death warrant, as well as her own.
Can there be love between them?
From the moment Court discovers that Anna's prim façade masks a fiery, brave lass, his heart's ensnared, and he dares to defy the curse that has shadowed his life -- to walk with death or walk alone. But Pascal vows that he'll hunt the two, never stopping until he's destroyed them both.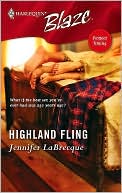 Highland Fling by Jennifer LaBrecque
(this one is autographed to me, but wanted to share)
Talk about powerful attraction!
E.R. physician Kate Wexford is used to expecting the unexpected. But even she isn't ready for this... One minute she's visiting her local museum, lusting after a man in a painting--Darach MacTavish, Laird of Glenagan. A man who died at Culloden more than 250 years ago. Then the next thing she knows, she's in the painting with him... in his bed...NAKED!
Laird Darach MacTavish has enough to worry about without being ambushed by beautiful women. Still, he has to admit, he's never met--or enjoyed more--a lass like his Katie. It's too bad she's a little daft. Because Katie's insisting she's been sent back in time to save his life. Ha! Darach would like to see her try--that is, if he decides to let her out of his bed....
I just love a steamy Scottish Historical and visiting Scotland was a really great experience to share with my friends. I can't wait for us to go on another exciting adventure. Where would you love to visit with your friends? Share and maybe we'll steal your idea for our next trip. To enter this month, comment with the phrase "If it's not Scottish, it's crap!"
SP
Coming Soon!
Join us on Monday when guest blogger Kelly Fitzpatrick talks to us about her journey to publication... with more chances to win! :)
P.S. Sherry Werth is PM's winner from Wednesday. Please email her at playgroundmonitor@writingplayground.com to claim your prize.