It's that time again! Time for the Playfriends to share what they're reading. This month we've got an interesting mix of fiction, writing craft and essays on life.
Smarty Pants is reading - Highly Charged! by Joanne Rock
I'll admit I'm a fan of the Uniformly Hot Series. Maybe I spend too much time with Instigator and Rhonda Nelson who both write books in this series. But who doesn't like rock-hard military men? Especially one in a wet t-shirt like on this cover? Poor thing. He should take those wet clothes off before he catches a cold.
Anyway - just as he's distracting me, Navy Lieutenant Brad Riddock is also distracting professor Nikki Thornton from her home renovation project. Understandable, right? And how is she supposed to get anything done when someone starts threatening her and Brad offers her some very personal protection?
*fans self*
Angel is reading - Writing for Emotional Impact: Advanced Dramatic Techniques to Attract, Engage, and Fascinate the Reader From Beginning to End by Karl Iglesias

This book was recommended as one that deals in-depth with character creation, and boy was she right!!! Iglesias focuses on what the reader sees on the page, how the reader responds psychologically, and how we as the authors can invoke chosen emotions in the reader. It sure wasn't the way I thought! He offers hundreds of techniques from a screenwriter's background to pack that emotional punch. I'm enjoying the unique approaches and clear psychological explanations. A must read for any author!
I picked up this book because I was intrigued by the idea of giving the Romeo and Juliet story we all know a new twist. It was an enjoyable read and I have to admit I'm hoping for a sequel, although I can't find any evidence that one's been contracted.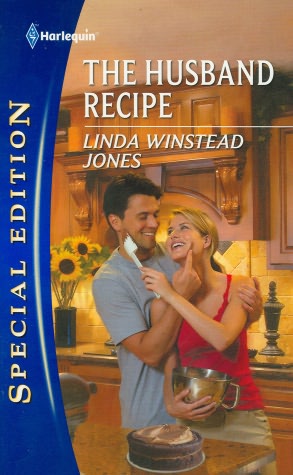 Playground Monitor is reading - The Husband Recipe by our very own Maven Linda Winstead Jones.
Why? Because it's by LJ. And because it's her first strictly romance short contemporary book. And because I've loved her books since I picked up my first title by her. And because the back blurb sounded like a book I'd love:
It Started with a baseball . . . Which shattered Lauren Russel's perfectly ordered life. Lauren's new neighbors were about to see the Southern lifestyle columnist's temper! Then she met Cole Donovan, the sexy single dad. He was not the man from her husband list; he was too tall, too sexy - and definitely had too many kids! But somehow, looking into his blue, blue eyes, she forgot all that . . . Lauren was too elegant, too prim and didn't understand that his three rambunctious kids were the focus of his life. But his tempting neighbor smelled delicious, looked delicious, and cooked like a dream. Cole wasn't looking for a wife, but he couldn't stay away from Lauren. Was it a recipe for disaster - or marriage?
Problem Child is reading - Ha by John Shore
Maybe I shouldn't tell y'all that, because it's a collection of essays about a lot of topics, but also about sex, politics and religion, and I'm not supposed to talk about two of those things on the Playground blog. I find Shore to be both genuine and realistic in his beliefs, and he has a great sense of humor and an eye for the absurd – especially the absurdities of sex, politics and religion. While he has very strong beliefs that shape his work, he doesn't feel the need to convince or defend, but instead places his essays inside that belief structure for examination. He also realizes that not every situation needs to be analyzed – much less inside a religious or moral matrix. The essays range from thought-provoking to simply amusing, and are easy to read and digest.
What are you reading this month?