I posted on my Facebook profile not too long ago that I was going to try defying gravity. Based on the responses I got, none of my friends are Broadway fans. Or Glee fans, for that matter. I think they had images of me trying to jump off my roof and fly or something.
Its actually a reference to a song from the musical
Wicked
. Elphaba, later known to be the Wicked Witch of the West, has turned against the corrupt Wizard and her friend Glinda is trying to talk her into apologizing and getting back in his good graces, but she refuses. She asks Glinda to come with her, but Glinda thinks Elphaba is delusional to go against the Wizard and can't support her decision.
What, you might ask, does this have to do with anything? Uh... well... the song Elphaba sings - Defying Gravity - was used in a recent episode of Glee. I found the song to be particularly poignant at this point in my career. Like Angel, the last two years have had the highest highs and the lowest lows. Frustrations. Dead ends. Opportunities have slipped through my fingers so many times that I've gotten down about the idea it will ever happen. For a while, I stopped writing. It's been about two months since I put a significant amount of words to the page. I was clipping along in NaNo quite well, then found out my proposal had been passed along to someone else. I hit a point where I realized I didn't know what kind of book I was writing anymore. Should I up the suspense? Darken the paranormal atmosphere? Add some sultry love scenes? It all depends on where I land, if I land at all. I got confused, discouraged, then decided to just set it aside.
I should be happy that I haven't been outright rejected, but at the same time I feel like a literary hot potato. I can't write without direction and at this point, I don't know where I'm going. And before the well-meaning encourage me to write what I want to write and not worry about where it will end up, I want to mention I've got a hard drive full of wonderful books I
wanted
to write that are miserably homeless. That advice is great, I think, for new authors who are trying to forge their voice and get tripped up in the mysterious writing rules. I'm past that. I can write a book. A decent one, too, but I'm at a point where the business side is what I'm struggling with. They're great stories, but completely unmarketable. I don't fit in the tidy little box. Neither do all these great popular authors, you say. That's good for them. But I'm willing to bet that ten years ago when they crossed the chasm to being published authors, they played the game. They wrote something safe and built up to writing their current style. Neither editors or agents are willing to take on a risk like me in this crappy market.
So I kept trying to think of a story that fits in this neat area that editors are looking for with their untried authors. I help the others plot 'normal' books without a problem, but when I tried to come up with my own... nothing. I mean, seriously nothing. I have an invite to submit to a line that is actively acquiring and selling well and I couldn't come up with an elevator pitch, much less fifty thousand words. My brain is worn down. The most inspired idea I've had in the last six months has involved a heroine afraid of condiments and a hero detective posing as a hot dog vendor. Oh, or the ventriloquist with the kidnapped dummy. Like I said, outside the box. Hell, I can't even
see
the box from here. Unmarketable. Unpublishable. Almost eight years of trying and nine books later, I'd ridden on the edge so long I've got a bitch of a papercut.
Might be the wrong choice not to write, but that's where my head has been. I chose not to get kicked in the head by my dreams on a daily basis. At least until I get kicked hard enough that I forget about the aggravation and try again.
So, then I heard this song be performed on Glee. It's a beautiful song. It's inspiring. Making your own rules, living without limits, aiming for the impossible. It struck a chord with me and I ran out and bought the Glee soundtrack. I'm afraid the singer of this song is braver than I am, but hoped if I sang it enough, it might boost me up to head back into battle. Its been about two weeks so far, and although not a full recovery, I have to say I'm feeling better. I have two plots in my head that are close enough to normal for an editor's taste. I think I might be ready to try defying gravity once again.
DEFYING GRAVITY by Stephen SchwartzSomething has changed within me, something is not the same I'm through with playing by the rules of someone else's game Too late for second-guessing, too late to go back to sleepIt's time to trust my instincts, close my eyes and leap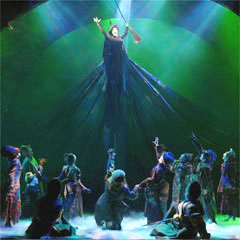 It's time to try defying gravity I think I'll try defying gravityKiss me goodbye, I'm defying gravity
And you can't bring me down! I'm through accepting limits cause someone says they're so Some things I cannot change but till I try, I'll never knowToo long I've been afraid of losing love I guess I've lost Well, if that's love it comes at much too high a costI'd sooner buy defying gravity Kiss me goodbye, I'm defying gravity I think I'll try defying gravityAnd you won't bring me down.
Any Glee or Wicked fans out there? Got any uplifting songs to perk you up when you're feeling down?
SP
P.S. In more uplifting news, Angel is hosting a Q&A session over on the Ruby Slippered Sisterhood today. If you are a writer, stop by and talk about the writing and publishing world with her and her fellow Golden Heart finalists!

PPS: PC here with a winner to announce. JANE! You stumped me with your characters. Send me your snail mail addy (Problemchild@writingplayground.com)