I saw a quote recently that really resonated with me.
Inside every old person is a young person wondering what happened.
Amen!
The Playkids have been plagued lately with a barrage of ailments (Smarty Pants doesn't have a kid, but she has a DB, which is pretty much the same thing). And when a kid is sick, that means Mommy gets to be a nurse instead of a writer. Also, school is out and the kids are home all day long. This means you must feed them three meals a day, keep them entertained, play referree if you have more than one child and in general relinquish any semblance of a personal life and schedule.
Been. There. Done. That.
And now I'm in the position where I don't get yanked out of a night's sleep by a vomiting child or called from school because my kid has a one hundred degree fever. I can pretty much sleep til 8:00 every day with the only disruption being the DH's snoring (though praise be for ear plugs).
We moved into a new house a few years ago and I tell folks it's our "middle-age-friendly" house. It's all brick with vinyl trim so the maintenance is low. It's all one level (except for a bonus room over the garage, which I graciously gave to the DH for his "stuff") and the lot is flat. It's the first house I've ever had that wasn't decorated in early mother-in-law hand-me-downs, outlet store bargains and Little Tikes.
Every time I visit one of the other Playfriends' homes, she begins to apologize for the toys and things scattered about. And every time I tell her not to worry because I've been there and done that. When they ride in my car they joke that it's like being on an airplane because there's a pillow and blanket in the backseat. They also comment about the lack of Cheerios and Happy Meal wrappers in the floor. And once again I tell them that I've been there and done that.
The oldest Playfriend was born seven months before I got married and the youngest is the same age as my older son. We have a generation gap in some respects, but I've never played the "Mama card" with one exception. In Reno they were going clubbing and I told them "I won't bail you out." I told my own kids the same thing. Don't do the crime if you can't do the time. ;-)
Trust me when I tell you that the days of sleepless nights and Happy Meal wrappers will be over before you know it.
Now I'm in a new stage of life: being a grandmother, or Grammy as BabyGrand calls me. She will be two years old next Sunday and inside this old Grammy is a young person wondering what the heck happened and where the years went.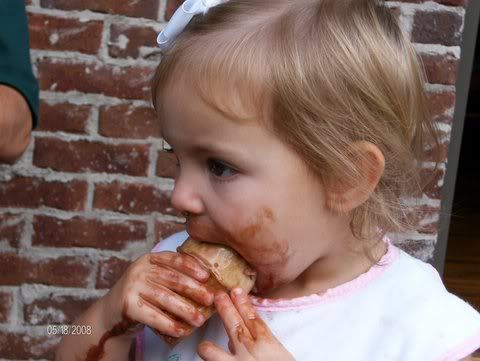 Have you had any age-related revelations lately?
P.S. The Writing Playground blog had its 100,000th hit yesterday! In celebration of this milestone, one lucky commenter will be picked at random to get a selection of books in a variety of genres, some autographed, along with some chocolate since BabyGrand has obviously tapped into the whole female and chocolate phenomenon. ::grin::